Redragon

Redragon GW800-1 1080P Webcam with Built-in Dual Microphone, 360-Degree Rotation - 2.0 USB Skype Computer Web Camera - 30 FPS for Online Courses, Video Conferencing and Streaming
Overview
Redragon GW800 Shoots in 1080P @ 30fps contains a double-sided, fully coated, anti-reflective film optical lens to help provide a clear and bright picture. A 2.1 meter magnetic ring anti-interference cable provides power to the webcam. It also has 2-channel, noise reduction dual stereo microphones. Supports Windows XP SP2 or later, Mac OS 10.6 or later, Linux 2.6.24 or later, Google Chrome OS 29.0.1547.70 or later (platform 4319.79.0 or later), Android V 5.0 or later smart TV and TV box, Xbox one or later.
Perfect For Virtual Meetings And Home Security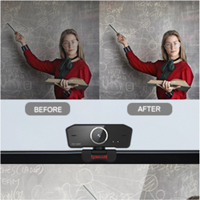 Advanced Fixed-Focus Tech
The fix-focus camera continues to display a clear and stable image, and does not randomly change focus due to light or dark environments or movement of the target. Eliminates awkward situations where the lens needs to be manually and repeatedly adjusted for a fixed focus.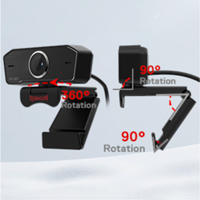 Mount It Anywhere
With the universal clip-on that can be rotated freely, the camera can be placed securely in any position you want. 360-degree rotation offers unlimited options to help you find the most suitable video angle.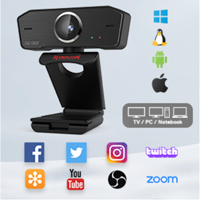 Plug & Play Without Drive
The 2.0 USB interface supports desktop, notebook, and mainstream computer systems such as XP, Vista, Win 7, Win 8, Win 10, Mac, and more. It doesn't require a driver, you can use it right away when you connect to your computer, and it supports many popular video recording, social media, and streaming software applications.
Redragon Webcam Comparison

| | | | |
| --- | --- | --- | --- |
| | GW900-1 | GW800-1 | GW600-1 |
| Description | FHD 1080P | FHD 1080P | FHD 720P |
| Resolution/fps | 1080P/30fps | 1080P/30fps | 720P/30fps |
| Sensor Resolution | 1920 x 1080 | 1920 x 1080 | 1280 x 720 |
| Output | MJPG/YUV/H.264 | MJPG/YUV | MJPG/YUV |
| Diagonal Field of View | 76 degrees | 72 degrees | 68.6 degrees |
| Lens | Plastic | Plastic | Plastic |
| Audio | Stereo audio | Stereo audio | Stereo audio |
| Auto Focus | Yes | No | No |
| Auto Light Correction | Yes | Yes | Yes |
| Mic(s) | 2 omni-directional | 2 omni-directional | 2 omni-directional |
| Noise-Cancelling Mic(s) | Yes | Yes | Yes |
| Connection | USB 2.0 Plug-and-play | USB 2.0 Plug-and-play | USB 2.0 Plug-and-play |
| Cable Length | 1.5M | 1.7M | 1.7M |
| Tripod | Support | Support | Support |
| Zoom | No | No | No |
| Optical Sensor Type | 1/2.7 | 1/2.7 | 1/4 |
| Focus | 7cm to infinity | 30cm to infinity | 30cm to infinity |
| Flexible Neck Length | 28mm | 28mm | 28mm |
| Digital Video Resolution | 30fps at 1920 x 1080 | 30fps at 1920 x 1080 | 30fps at 1280 x 720 |
| Still Image Resolution | 30fps at 1920 x 1080 | 30fps at 1920 x 1080 | 30fps at 1280 x 720 |
| Still Image Format | 2Mega | 2Mega | 1Mega |
| Frame Rates | 30fps | 30fps | 30fps |
| Microphone | Dual omi-directional microphone | Dual omi-directional microphone | Dual omi-directional microphone |
| Dimensions (WxDxH) | 79 x 25 x 55mm | 91.2 x 31.2 x 55mm | 91.2 x 31.2 x 55mm |
| Weight | 132g | 140g | 138g |
| Interface | USB 2.0 Plug-and-play | USB 2.0 Plug-and-play | USB 2.0 Plug-and-play |
| Compatibility | Windows XP(SP2, SP3); Vista 7,8,10; Linux or OS with UVC driver | Windows XP(SP2, SP3); Vista 7,8,10; Linux or OS with UVC driver | Windows XP(SP2, SP3); Vista 7,8,10; Linux or OS with UVC driver |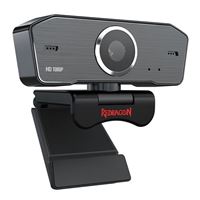 Redragon GW800-1 1080P Webcam with Built-in Dual Microphone, 360-Degree Rotation - 2.0 USB Skype Computer Web Camera - 30 FPS for Online Courses, Video Conferencing and Streaming