Redragon

Redragon GW800-1 1080P Webcam with Built-in Dual Microphone, 360-Degree Rotation - 2.0 USB Skype Computer Web Camera - 30 FPS for Online Courses, Video Conferencing and Streaming
Overview
Redragon GW800 Shoots in 1080P @ 30fps contains a double-sided, fully coated, anti-reflective film optical lens to help provide a clear and bright picture. A 2.1 meter magnetic ring anti-interference cable provides power to the webcam. It also has 2-channel, noise reduction dual stereo microphones. Supports Windows XP SP2 or later, Mac OS 10.6 or later, Linux 2.6.24 or later, Google Chrome OS 29.0.1547.70 or later (platform 4319.79.0 or later), Android V 5.0 or later smart TV and TV box, Xbox one or later.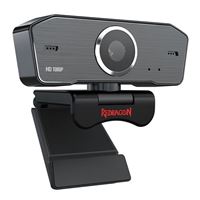 Redragon GW800-1 1080P Webcam with Built-in Dual Microphone, 360-Degree Rotation - 2.0 USB Skype Computer Web Camera - 30 FPS for Online Courses, Video Conferencing and Streaming
Usually ships in 5-7 business days.