Dell Dell Alienware Aurora R10 Gaming PC

AMD Ryzen 5 5600X 3.7GHz Processor; NVIDIA RTX 3060 Ti 8GB GDDR6; 16GB DDR4-3400 RAM; 1TB SSD
0 NEW IN STOCK at Rockville Store

Condition
Warranty
Sales Terms
Price
Select One
COMPLETE


ID: 194719

REMAINING MANUFACTURER WARRANTY APPLIES
Available In-Store Only
SEE WARRANTY & SUPPORT FOR DET

$863.96
Overview
AMD Ryzen 5 5600X 3.7GHz Processor
NVIDIA RTX 3060 Ti 8GB GDDR6
16GB DDR4-3400 RAM
1TB SSD
10/100/1000 LAN + WiFi 6 WLAN
Windows 10 Pro
Included 120mm Closed Loop Liquid Cooler
Break down boundaries and immerse yourself in the game with graphics more realistic than ever before thanks to the multi-thread scaling capabilities of the new API DirectX 12. Precision Boost 2 accelerates performance for intense workloads, automatically boosting CPU clock speeds on AMD Ryzen 5000 series processors. Whether your games and apps use one core or many, Precision Boost 2 is always watching temperature and power consumption to intelligently deliver the best experience. Your system delivers outstanding overclocking capabilities automatically thanks to HyperX FURY DDR4 memory. HyperX memory modules are tested at speeds to ensure they are free from manufacturing and material defects, and preset timings, included on the memory modules, enable the highest performance possible on your system. In addition, the Aurora Ryzen Edition now supports up to 128GB of memory - ideal for intensive multitasking like livestreaming while creating. 120 mm intake near the front and a 120 mm exhaust fan attached to the radiator on the computers liquid cooling system.
---
Eligible for Free Upgrade to Windows 11 when available from Microsoft
This device comes with Windows 10 and is eligible for a free Windows 11 Upgrade. The Windows 11 Upgrade will be delivered online to qualifying devices starting in late 2021 and into 2022. Timing will vary by device. Certain features require specific hardware requirements be met. See Microsoft Windows 11 Specifications and Requirements for additional information.
---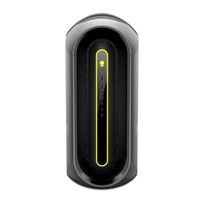 Dell Alienware Aurora R10 Gaming PC

AMD Ryzen 5 5600X 3.7GHz Processor; NVIDIA RTX 3060 Ti 8GB GDDR6; 16GB DDR4-3400 RAM; 1TB SSD
0 NEW IN STOCK at Rockville Store