Creality Creality UW-01 Washing/Curing Machine

Dual-band UV light source; Magnetic 360° rotatable platform; Large-size washing container; Adjustable three-gear speed
Overview
Dual-band UV light source
Magnetic 360° rotatable platform
Large-size washing container
Adjustable three-gear speed
2-90min optional
HD touch button
Flexible wash method: The model can be washed separately in the washing basket or together with bottom plates. The UW-01 Washing and Curing Machine supports larger size models for cleaning; With a sealed container and lid, it avoids cleaning solution volatilization and also stores the cleaning solution for the repeated use. The water level to wash the model depends on the washing container size and model size. Cure mode: With built-in LED beads(18 pieces of UV LED lights), the UW-01 Washing and Curing Machine is compatible with most resin printers; The double row 9-bead design with a higher irradiated area realizes quick curing and even irradiation for the larger model. 360-degree curing tray with magnetic force and reflective mirror make full use of the light source, which cures the model from all angles. Once the machine cover is removed during the curing process, the UW-01 Washing and Curing Machine will immediately suspend the curing, which avoids light source glare and reduces light pollution.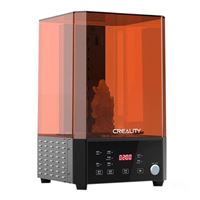 Creality UW-01 Washing/Curing Machine

Dual-band UV light source; Magnetic 360° rotatable platform; Large-size washing container; Adjustable three-gear speed
Usually ships in 5-7 business days.