Dell

Dell Alienware AW2521H 24.5" Full HD 360Hz HDMI DP G-Sync HDR10 IPS LED Gaming Monitor
Overview
The secret to victory is staying one step ahead of the competition and now you can. The Alienware 25 Gaming Monitor possesses the world's fastest refresh rate at 360Hz. Gameplay is now fully optimized to enable split-second reactions and with a refresh rate this fast, you can count on a no-scope headshot before the enemy even knows you're there.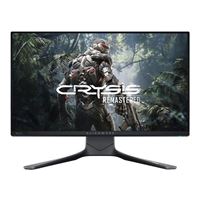 Dell Alienware AW2521H 24.5" Full HD 360Hz HDMI DP G-Sync HDR10 IPS LED Gaming Monitor
Usually ships in 5-7 business days.