ASUS

ASUS Webcam C3 1080p HD USB Camera Beamforming Microphone, Tilt-adjustable, 360 Degree Rotation, Wide Field of View, Compatible with Skype, Microsoft Teams and Zoom
Overview
Enjoy sharper, smoother video streaming and crystal-clear audio with ASUS Webcam. Delivering crisp and detailed FHD video in a widescreen format, ASUS Webcam can be connected via USB and placed anywhere on your desk or on top of your monitor. A built-in beamforming microphone array ensures loud and clear audio.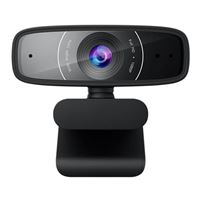 ASUS Webcam C3 1080p HD USB Camera Beamforming Microphone, Tilt-adjustable, 360 Degree Rotation, Wide Field of View, Compatible with Skype, Microsoft Teams and Zoom
Usually ships in 5-7 business days.