EVGA

EVGA Z15 RGB Gaming Keyboard, RGB Backlit LED, Hotswappable Mechanical - Kaihl Speed Silver Switches (Linear)
Overview
The Z15 RGB keyboard offers the ultimate in custom control, with hot-swappable linear or clicky mechanical switches, ensuring the perfect level of feedback for any user. Powered by a 32-bit Arm Cortex-M33 core USB microprocessor: the Z15 offers the most advanced gaming keyboard experience, with a 4000Hz report rate. Customize the Z15 to fit your style with full RGB control featuring per-key RGB LEDs configurable through EVGA UNLEASH. The Z15 has everything the enthusiast needs for expressing themselves with their keyboard and optimizing playstyles.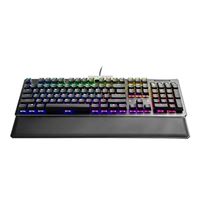 EVGA Z15 RGB Gaming Keyboard, RGB Backlit LED, Hotswappable Mechanical - Kaihl Speed Silver Switches (Linear)
Usually ships in 5-7 business days.