Corsair Corsair Hydro X Series XM2 M.2 SSD Water Block

Add Your M.2 SSD to a Custom Cooling Loop - Copper Cold Plate - Easy Installation
Overview
Add Your M.2 SSD to a Custom Cooling Loop - Copper Cold Plate - Easy Installation
Add your high-speed M.2 SSD to a Hydro X Series custom cooling loop, lowering its temperatures and reducing thermal throttling. A high-performance copper cold plate efficiently draws heat away from your SSD. Installs quickly on compatible M.2 SSDs (2280) and connects easily to your loop with two standard G1/4 thread connector fittings (not included).
See Other Water Cooling Water Blocks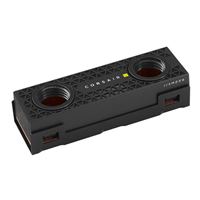 Corsair Hydro X Series XM2 M.2 SSD Water Block

Add Your M.2 SSD to a Custom Cooling Loop - Copper Cold Plate - Easy Installation
Usually ships in 5-7 business days.