Inland

Inland 2.5D Rock Edge to Edge Double Tempered Glass Screen Protector for iPhone 12 Pro Max 3-Pack
Overview
2.5D Rock Glass- 3-Pack, 3X flexible 5X stronger than regular glass with 0.33mm thickness protection includes Easy Installation Kit. Includes 3 glass screen protector, easy to use installation kit, dust removal film, alcohol pad, and a microfiber to keep the screen looking nice. The screen protector is oleophobic for anti-smudge purposes to avoid unwanted blemishes. This screen protector provides maximum protection from scratches and scrapes using real glass with 9H hardness. You will not lose any touch sensitivity as our protectors are extremely touch sensitive.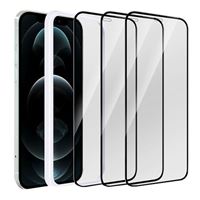 Inland 2.5D Rock Edge to Edge Double Tempered Glass Screen Protector for iPhone 12 Pro Max 3-Pack
Usually ships in 5-7 business days.