AOC

AOC 24G2 23.8" FHD (1920 x 1080) 144Hz HDMI VGA DP FreeSync IPS Frameless LED Gaming Monitor
Overview
24G2 is a 23.8 inch (60.4 cm) LCD monitor with great colors and great speed. Whatever your game, play it on the AOC 24G2. The 24G2 comes with a pixel response time of 1ms, resulting in speed without the smear for an enhanced experience. Fast-moving action and dramatic transitions will be rendered smoothly without the effects of ghosting. Whatever your setup, achieve the highest framerate and smoothest display are possible via AMD FreeSync Technology. Whether youre dashing through explosions or screeching around rain slicked bends, wave goodbye to screen tearing and lag, and leave your opponents in your smoothly rendered dust. With a 144Hz refresh rate every frame is rendered sharply and in smooth succession, so you can line up your shots accurately and appreciate high speed races in all their glory. Expand your view with multiple monitor set-up. The narrow border and frameless design offer the minimal bezel distraction for the ultimate battle station.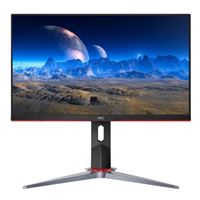 AOC 24G2 23.8" FHD (1920 x 1080) 144Hz HDMI VGA DP FreeSync IPS Frameless LED Gaming Monitor
Usually ships in 5-7 business days.