Gamdias

Gamdias Kratos P1-750W RGB 80 Plus Gold ATX Semi-Modular Power Supply
Overview
With less heat converted by the remaining power, KRATOS P1 750G meets 80 PLUS Gold Efficiency. Accordingly, it wont waste power and trigger excess heat. The less heat output generated, the less noise arises. With the design of semi modular, KRATOS P1 750G is attached with necessary cables while giving you full access to adding flat power cables as needed, enhancing convenience, aesthetic as well as airflow.
See Other Similar Power Supplies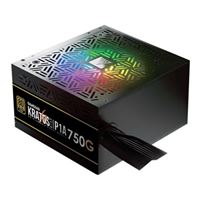 Gamdias Kratos P1-750W RGB 80 Plus Gold ATX Semi-Modular Power Supply
Usually ships in 5-7 business days.