Element

Element EM3FGAB27BS 27" WQHD 165Hz HDMI DP FreeSync IPS LED Gaming Monitor
Overview
Elements 27 frameless gaming monitor provides everything you need for premium gameplay or everyday tasks. This 1440p resolution monitor is equipped with FreeSync Technology for avoiding tearing and reducing stuttering. With easy set-up for multiple screens, youre able to expand your view and get more done. The 16:9 widescreen resolution partnered with a 1ms response time and 165hz refresh rate allows a vivid, realistic picture so you can be immersed in your gaming world. Built-in speakers and a sleek, frameless screen enable the monitor to blend with your decor for a clean aesthetic.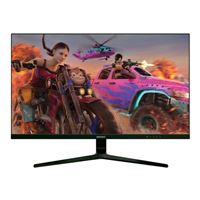 Element EM3FGAB27BS 27" WQHD 165Hz HDMI DP FreeSync IPS LED Gaming Monitor
Usually ships in 5-7 business days.