ASUS

ASUS VG248QEZ 24" FHD (1920 x 1080) 144Hz HDMI DP DVI-D 3D Vision Ready LED Gaming Monitor
Overview
ASUS VG248QEZ fast gaming monitor shortens the time it takes for rendered frames to display on the screen. Lower monitor latency gives a gamer the opportunity to improve their in-game response time. The 144Hz rapid refresh rate speeds up the frames per second to deliver ultra-smooth motion scenes. The response time is also reduced to 1ms to eliminate tracers by controlling voltage levels when driving liquid crystals thus ensuring fluid and clear video playback. As with most ASUS displays, the VG248QEZ has an ergonomic design, with tilt, swivel, pivot and height adjustment to give users a comfortable viewing experience. The ASUS VG248QEZ features the ASUS-exclusive GamePlus (Patent-pending) hotkey with crosshair (aimpoint) and timer functions. Gamers can select four different aimpoint types to suit the gaming environment; while the latter keeps players aware of the elapsed time in real-time strategy games. These tools allow gamers to practice and improve on their gaming skills. The VG248QEZ is compatible with the NVIDIA 3D Vision 2 kit. Through NVIDIA 3D Vision 2 glasses technology, it instantly takes you into another dimension - transforming all your gaming experiences and movies to 3D. Also with the latest NVIDIA 3D LightBoost Technology, user can enjoy twice the brightness of conventional 3D technology in 3D mode with zero increase in total energy consumption.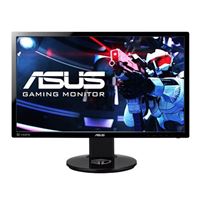 ASUS VG248QEZ 24" FHD (1920 x 1080) 144Hz HDMI DP DVI-D 3D Vision Ready LED Gaming Monitor
Usually ships in 5-7 business days.