Inland

Inland 1.75mm Lulz Green PLA Pro 3D Printer Filament - 1kg Spool (2.2 lbs)
Overview
PLA PRO (PLA+) filament is several times tougher than PLA; no cracking or brittle problem, and prints are hard to break. PLA Pro results in smoother finished printouts. PLA Pro has a low shrinkage rate and sticks very well both to bed and layer to layer. PLA Pro is a biological material, extracted and purified from corn grain, eco- friendly, odorless, and harmless to human.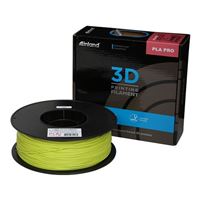 Inland 1.75mm Lulz Green PLA Pro 3D Printer Filament - 1kg Spool (2.2 lbs)
Usually ships in 5-7 business days.