Corsair

Corsair Hydro X Series XG7 RGB 30-SERIES GPU Water Block - 3080 FE
Overview
Constructed with a special edition XG7 manifold inspired by the iconic and refined look of CORSAIR DOMINATOR PLATINUM Memory. More than 50 high-density cooling fins positioned over the GPU maximize thermal transfer and surface area, for lower temperatures and maximum performance.
See Other Water Cooling Water Blocks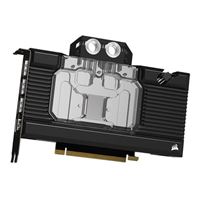 Corsair Hydro X Series XG7 RGB 30-SERIES GPU Water Block - 3080 FE
Usually ships in 5-7 business days.