Inland

Inland Replacement Laptop Battery for Dell Inspiron Vostro MR90Y 14R 15R 17R 3421 3721 5521 5721 3440 3521 3540 5437 5537 2521 3737 N121Y G35K4 MK1R0 0MF69 YGMTN 6HY59 9K1VP XCMRD VR7HM 68DTP G019Y 6XH00 T1G4M 4DMNG 6K73M 8TT5W V1YJ7 8RT13 W6XNM 49VTP FW1MN V8VNT 4WY7C 6KP1N PVJ7J X29KD 24DRM DJ9W6 XRDW2

Overview
Why are Inland replacement laptop batteries better? CAPACITY - Inland batteries use the same capacity battery cells as your original battery or better! Other vendors cut corners with lower capacity cells. QUALITY - Inland batteries use cells manufactured exclusively by the trusted brands Samsung, LG, and Sanyo. Other vendors use unbranded cells manufactured in China. SAFETY - Inland batteries are manufactured with a USA-made, Texas Instruments control chip. You are safer using an Inland replacement battery than one made with a control chip from an unknown source. LONGEVITY - The name-brand cells will last for double the length or better than knock-offs, exceeding 1000 charge cycles (compare to less than 500). WARRANTY - Inland batteries come with an unprecedented two-year warranty! We can offer this because our quality is far superior to the alternatives. This is a replacement laptop battery for Dell laptops & notebooks, models include various Inspiron, Latitude and Vostro units. This 5600 mAh Lithium-Ion battery is rated at 11.1V*, yielding 62.2 Wh of power. That's 27% more capacity than competitors' 4400 mAh, 48.8 Wh batteries! The longevity rating is 1000 cycles and it comes with a 2 year warranty. Micro Center offers HP laptop battery replacement and installation services to ensure your laptop will be back up and running quickly ask the store for details. This is a replacement for Dell part numbers including 0MF69, 24DRM, 49VTP, 4DMNG, 4WY7C, 68DTP, 6HY59. See the specs tab for detailed Dell laptop compatibility. *Also compatible with 10.8V and 10.95V applications.
This battery uses battery cells from name brand manufacturers like Samsung, LG, and Sanyo – the same brands that your original laptop's battery uses! We also guarantee that the capacity is the same or better as your original battery, other products on the market use lower capacity and lower quality cells to save on cost.
<
Inland batteries all use a battery management chip made in the USA by Texas Instruments. This trusted chip offers all the best safety features. Competitors use cheap microchips from an unknown source that typically do no offer all the safety and longevity features.
This battery LASTS! You can expect 1000+ charge cycles (a cycle is an instance of a battery being depleted and fully charged). Other aftermarket products, with their cheap components, will only offer 300-500 cycles.
Inland's TWO-YEAR WARRANTY is unmatched. Our products are of the highest quality and built to last, which is why we are able to offer what nobody else can.
---
Images shown may not be actual product.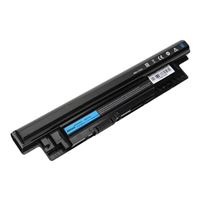 Inland Replacement Laptop Battery for Dell Inspiron Vostro MR90Y 14R 15R 17R 3421 3721 5521 5721 3440 3521 3540 5437 5537 2521 3737 N121Y G35K4 MK1R0 0MF69 YGMTN 6HY59 9K1VP XCMRD VR7HM 68DTP G019Y 6XH00 T1G4M 4DMNG 6K73M 8TT5W V1YJ7 8RT13 W6XNM 49VTP FW1MN V8VNT 4WY7C 6KP1N PVJ7J X29KD 24DRM DJ9W6 XRDW2
2 NEW IN STOCK at Columbus Store
Located In Aisle 40 BIN 53►VIEW MAP