Bitspower

Bitspower Touchaqua Titan One O11D Series Chassis for AMD & INTEL
Overview
Titan One 1.2 has been designed for everyone from mainstream gamers through to hardcore hardware enthusiasts. With this case kit, users don't have to purchase water cooling system components individually: out of the box, it includes a CPU water block, radiator, fans, fittings, pre-bent hard tubes, water distribution reservoir, and a host of other accessories. Users can choose their ideal CPU, motherboard, memory and HDD/SSD, and then build their own water-cooled system based on their computing needs. Titan One 1.2 is perfect for overclockers looking for a simple all-in-one solution. Bitspower has included a comprehensive series of components to ensure that user are able to fully water-cool a system quickly and easily, that is based on the hardware of their choice. By including pre-bent and cut tubes, one of the most complicated elements of creating a loop is already taken care of - you just need to connect everything up and get cooling!
Learn How To Install Bitspower Water Block (For Titan One 1.2)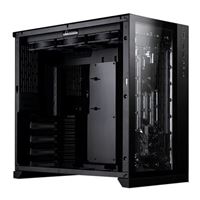 Bitspower Touchaqua Titan One O11D Series Chassis for AMD & INTEL
Usually ships in 5-7 business days.