D-Line

D-Line Mini Raceway Pack, incl. 3x 39' Length (1.18" x 0.59") and Accessories - White
Overview
Round design blends to resemble natural top-section of baseboards, while concealing cord drops vertically and runs across ceilings. Each pack contains: 3x 1.18in (W) x 0.59in (H) x 39in lengths, 1x Flat Bend, 1x External Bend, 1 x Internal Bend, 2x Coouplers, 2x End Cap. White color, but paintable.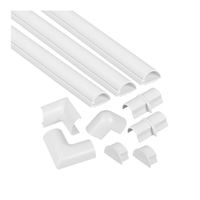 D-Line Mini Raceway Pack, incl. 3x 39' Length (1.18" x 0.59") and Accessories - White
Usually ships in 5-7 business days.