ASUS

ASUS PN50 MiniPC with AMD Ryzen R3-4300U 4 cores mobile processors, support up to 4 displays in 4K resolution, up to 64GB DDR4 RAM, M.2 SSD, 802.11AX WiFi 6 with dual USB 3.2 Gen 2 Type-C (PN50-BBR064MD)
Overview
ASUS Mini PC PN50 is an ultracompact computer that delivers powerful performance for a wide variety of home and business applications. Featuring the latest AMD Ryzen 4000 mobile processor with Radeon Vega 7 graphics, and support for high-speed 3200 MHz DDR4 memory.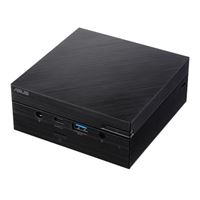 ASUS PN50 MiniPC with AMD Ryzen R3-4300U 4 cores mobile processors, support up to 4 displays in 4K resolution, up to 64GB DDR4 RAM, M.2 SSD, 802.11AX WiFi 6 with dual USB 3.2 Gen 2 Type-C (PN50-BBR064MD)
Usually ships in 5-7 business days.