SteelSeries

SteelSeries Aerox 3 Wireless Gaming Mouse - Black
Overview
When quick movements matter and picking up your mouse can get tiring, SteelSeries Aerox 3s super light design allows faster and more accurate reaction times in game. Aerox 3 includes the TrueMove Core, a new custom true 1-to-1 tracking sensor co-developed with PixArt specially for performance. This 8:500 CPI, 300 IPS, 35G optical sensor delivers the speed and accuracy needed to improve your gameplay. Quick swipes and rapid movements are essential to perform your best in game. Our all-new soft microfiber mesh cable enables less drag and a lighter feel for when it is time to hit that crucial shot. PTFE Glide Skates are designed to provide enhanced control and smoothness for silky smooth super light mouse movements. The first ever gaming mouse to receive an IP54 rating, providing full 360 protection from liquids, dust, dirt, oil, fur, and more. The mouse is engineered to safeguard the interior circuitry from virtually all types of environmental damage, so you never have to worry about accidents. Every component from the external and internal build was carefully crafted to maximize durability and comfort. The ultimate personalization of your mouse just got easier. The standard USB-C connection is easy to plug in, and enables you to customize the mouse with aftermarket cable options.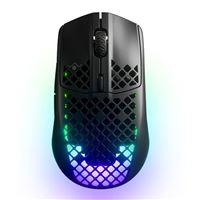 SteelSeries Aerox 3 Wireless Gaming Mouse - Black
Usually ships in 5-7 business days.