Overview
High quality silicone cover provides reliable protection of the Xbox One/S/X controller from damage and dirt. Studded Shaped Grip Surface Improves grip and feels more comfortable when holding the controller. 9CDeer covers are the only Xbox One silicone skin which is compatible with Microsoft Official Stereo Headset Adapter on the market! Soft silicone makes it easy to put on and take off of your controllers, compatible with all Xbox One controller models, best on Xbox One S and Xbox One X controller. 4 different types, 8 pieces thumb grips; select different style depending on your game. Dust proof plug protects the earphone port and usb port from dust and dirt.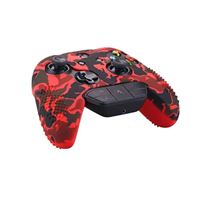 9CDeer Studded Silicone Cover with 8 Thumb Grips Analog Caps for Xbox One/ S/ X Controller - Red Camo
Available for In-Store Pickup Only.