Micro Connectors

Micro Connectors 2-Pack Premium Sleeved 8 (6+2) Pin PCI-e GPU Power Extension Cable Blue - 45cm (1.5ft)
Overview
Micro Connectors Premium Sleeved PCI-e GPU Power Extension Cable are great for decorating and improving airflow for your system build. With its high-quality cable assembly wrapped in a triple-layered flexible heat-shrink free sleeving, these cables give you a clean and appealing look. With five different colors to choose from Black, Blue, White, Red/Black, White/Black, these cables let you customize your system build.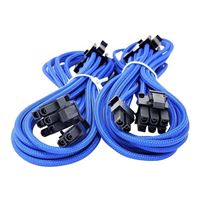 Micro Connectors 2-Pack Premium Sleeved 8 (6+2) Pin PCI-e GPU Power Extension Cable Blue - 45cm (1.5ft)
Usually ships in 5-7 business days.