Power A

Power A Fusion Wireless Arcade Stick for Nintendo Switch
Overview
Made for both arcade aficionado and novice, the FUSION Wireless Arcade Stick by PowerA is the perfect choice for your favorite fighting game franchises like Pokken Tournament, Mortal Kombat, Street Fighter, SNK, Dragon Ball FighterZ, Tekken, Guilty Gear and many more classic arcade titles. Improve your combos using eight full size (30mm) Japanese style domed buttons plus ball top joystick with metal shaft, dust cover and thumb-stick/d-pad toggle switch. After up to 30 hours of Bluetooth wireless gameplay using two AA alkaline batteries, open the front storage area to plug in 9.8ft (3m) USB-C to continue playing in tournament wired mode. There is even a battery mode switch that prevents battery drain or interference in wired mode when OFF. The solid build quality is reinforced with a sturdy metal base and rubber footing that holds up to intense button mashing action. Finally, show off your personal style with two face card options or download a template from PowerA.com so you can design and print your own.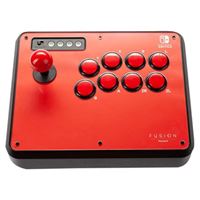 Power A Fusion Wireless Arcade Stick for Nintendo Switch
Usually ships in 5-7 business days.