Power A

Power A Single Charging Station for PlayStation 4
Overview
Feel confident your controllers are always ready to game as they charge on display alongside of your PS4 console. Your DUALSHOCK 4 Controller should start to glow orange to indicate its charge status. If the DUALSHOCK 4 Controller is 'ON' while charging on the Station, it will retain its normal blue hue and the charge status can be monitored on the PS4 dashboard. The DUALSHOCK 4 controller will stop glowing when fully charged.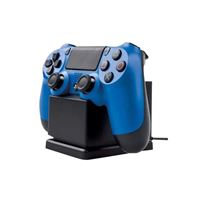 Power A Single Charging Station for PlayStation 4
Usually ships in 5-7 business days.