Crucial

Crucial P2 1TB SSD 3D NAND M.2 2280 PCIe NVMe 3.0 x4 Internal Solid State Drive
Overview
Whether youre at work, in the game, or on the go, ordinary bootup speeds can frustrate your best laid plans. Good thing the Crucial P2 SSD really flies. With plenty of storage and performance accelerated by NVMe technology, the P2 has the speed and dependability you need to explore your computers potential.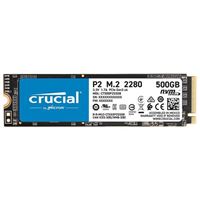 Crucial P2 1TB SSD 3D NAND M.2 2280 PCIe NVMe 3.0 x4 Internal Solid State Drive
Usually ships in 5-7 business days.