Turtle Beach

Turtle Beach Elo 7.1 Air Wireless RGB Gaming Headset - Black
Overview
The innovation from ROCCAT you know and love propelled to another level by the industry expertise of Turtle Beach. The #1 global leader in gaming audio, Turtle Beachs technologies are now exclusively available to ROCCAT and make the best even better. The Elo 7.1 Air boasts ROCCATs Stellar Wireless technology for data transmission as good as and in many cases better than wired and a battery life that lasts the typical gamer over a week. Gone are the days of compromising when going wireless, the Elo 7.1 Air marks a new dawn for cable-free gameplay with its impressive feature set. Its 7.1 surround sound is powered by precision-tuned 50mm drivers and features Superhuman Hearing technology to boost critical in-game audio. Superior memory foam and a self-adjusting metal headband give you a unique, weightless fit thats full of style thanks to AIMO lighting. The removable TruSpeak mic completes the package of a high-end wireless gaming headset.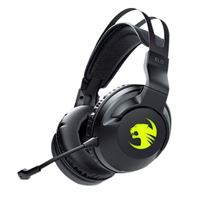 Turtle Beach Elo 7.1 Air Wireless RGB Gaming Headset - Black
Usually ships in 5-7 business days.