PNY

PNY Quadro RTX 5000 Single-Fan 16GB GDDR6 PCIe 3.0 Graphics Card
Overview
Shatter the boundaries of whats possible with the NVIDIA Quadro RTX 5000, powered by NVIDIA Turing GPU to bring real-time ray tracing and accelerated AI to next-generation workflows. Creative and technical professionals can supercharge demanding design and visualization workloads and make more informed decisions faster than ever before. Equipped with 3072 CUDA cores, 384 Tensor cores, 48 RT Cores and 16GB GDDR6 memory, Quadro RTX 5000 can render complex models and scenes with physically accurate shadows, reflections, and refractions to empower users with instant insight. Support for NVIDIA NVLink enables applications to scale memory and performance with multi-GPU configurations. And with the industrys first implementation of the new VirtualLink, Quadro RTX 5000 provides connectivity to the next-generation of high-resolution VR head-mounted displays to let designers view their work in the most compelling virtual environments possible.
See Other NVidia GPU Based Video Cards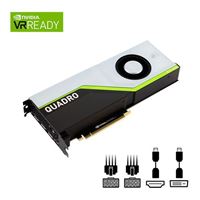 PNY Quadro RTX 5000 Single-Fan 16GB GDDR6 PCIe 3.0 Graphics Card
Find online. Buy in store.