Overview
Get this magical little solution bottle that will keep your bathroom mirrors, eyeglasses, swim goggles, sport goggles, snorkeling masks, Windshields, Binoculars, Scopes, Hockey Shields, and endless other surface types fog free and ready to go! Feel good knowing that you're not being exposed to any chemicals or harmful ingredients. Our all-natural water mist formula is easy on the surface, and perfectly safe for your eyes and skin. We aren't like those other guys that make you wait 25 minutes to wipe. No way. We deliver instant results. Spray once, rub, rinse - and your surface is protected and will stay fog-free. This unique formula will deliver you the clarity you seek. Prescription, Transition or Polarized lenses? We've got you covered for all Non AR-Coated lenses. We found that many defogging sprays will work on one surface type optimally, while performing poorly on the rest. That's why we worked hard to design a formula that would effectively prevent fogging on Polarized, UV, Iridium, Photo-chromatic, Polycarbonate, Lexan, and many other materials.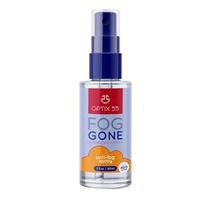 Optix 55 Anti-Fog Spray for Non - Anti Reflective Lenses
Available for In-Store Pickup Only.