Night Owl Night Owl HD DVR Security Kit

16-Channel; 8 Cameras Included; 1TB Pre-Installed HDD; 1080p Resolution
Overview
16-Channel
8 Cameras Included
1TB Pre-Installed HDD
1080p Resolution
Proudly American, Night Owl introduces our 1080p HD Wired Security System with Human Detection Technology, Built-In Motion-Activated Spotlights, and Unique Enhanced Security Features. A Built-In Motion-Activated Spotlight activates anytime one of the cameras senses human motion. Human Detection Technology uses advanced algorithms to detect human motion, thereby reducing false alerts to your Smart Device and saving hard disk drive (HDD) space. Facial Capture Technology captures a persons face from up to 10 ft. away from the camera. It sends an alert to your Smart Device with the captured face so you can decide whether it is a familiar or unfamiliar person. Adding an extra layer of security to your world, Night Owl is introducing Unique Enhanced Security features. New to video security systems, Single Sign-On and 2-Step Verification protects your privacy and prevents unverified access to your device. Also, the DVR uses Anti-Theft Technology to send you real-time alerts if it's moved, so you're always in the know. There are absolutely no fees for storing your recordings! Simply keep everything on the pre-installed HDD. The weather-resistant indoor/outdoor cameras continue recording in full-color HD video even in low-light settings. Our Color Night Vision, known as L2 Color Boost Technology, provides video in full-color only switching to Night Vision when necessary. Night Vision up to 100 ft. and wide-angle viewing provides extreme coverage for your home or business.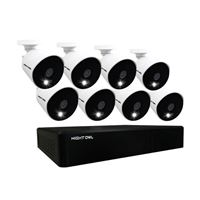 Night Owl HD DVR Security Kit

16-Channel; 8 Cameras Included; 1TB Pre-Installed HDD; 1080p Resolution
Usually ships in 5-7 business days.