Overview
Plusivo 60 W Adjustable Soldering Iron Kit. Soldering Iron Kit for many applications - necessary tools for soldering projects, home DIY fixing jobs, electrical, electronics and appliance repairs, circuit board welding, for home DIY hobbyist in crafts and jewelry making and many more uses. Premium Quality Components with safety features - high quality soldering iron, stand and all other accessories; soldering iron with adjustable temperature knob (200C - 450C), 5pcs replaceable tips, heat-resistant cap and grip for maximum protection. Bonus Accessories - more than 15 extra items such as desoldering pump/solder sucker, tin wire solder tube, tweezers, mini wire stripper, mini screwdrivers, mini PCB, heat shrink tubes and more plus a downloadable ebook. Durable and Convenient Carry Bag - assorted tools come handy in a durable easy-to-carry PU bag; keeps all the components organized, easy to carry, store and transport anywhere; everything you wanted in a home DIY do-it-yourself package. Satisfaction Guarantee - every purchase is backed by the manufacturer's 30-day money-back / replacement guarantee and lifetime customer support, ensuring the customers' high level of satisfaction.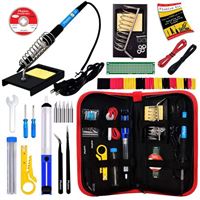 60W Adjustable Soldering Iron Kit
Available for In-Store Pickup Only.