Mackie

Mackie MP-220 Dual Dynamic Driver Professional In-Ear Monitors - Black
Overview
The Mackie MP-series professional in-ear monitors are made for live, on-stage performances. The monitors feature molded low-profile enclosures for maximum comfort and bass response. The MP-220 is equipped with dual precision dynamic drivers that provide cleaner performance (over the MP-120) at higher levels. Because two drivers are doing the same job, you get higher efficiency, better details in the high frequencies, and increased bass response. The earphones come with three styles of ear tips in three different sizes, so you can choose what works and fits best in your ears. The MP-220s include a hard molded plastic case to hold your in-ear monitors and ear tips.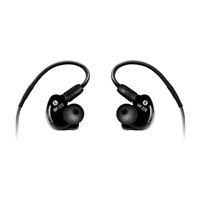 Mackie MP-220 Dual Dynamic Driver Professional In-Ear Monitors - Black
Usually ships in 5-7 business days.