Savage

Savage RGB Portrait Kit
Overview
The Savage RGB Portrait Kit provides a soft, even light source for perfect portraits and interviews when used with the included 20 easy open softboxes. Experiment with dozens of exciting special effects for video, find your favorite color to add pop to hair lights or get creative with fill light! LEDs ensure a very low heat light source. Each of the two lights comprise 168 chip on board LEDs, which together produce the equivalent of 700W incandescent light while only utilizing 100W of electricity. Change the light settings via the rear control panel or from your smart phone with the free Savage Light Manager mobile app.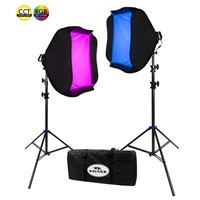 Savage RGB Portrait Kit
Usually ships in 5-7 business days.