ASUS

ASUS RT-AX86U AX5700 WiFi 6 Dual Band Gigabit Wireless Gaming Router with Mesh WiFi support
at Columbus StoreSold Out

Overview
The ASUS RT-AX86U dual-band WiFi 6 router delivers ultrafast WiFi speeds up to 5700 Mbps, and is packed with advanced technology, including Mobile Game Mode for a lag-free, low-latency mobile gaming experience. RT-AX86U supports up to a 2 Gbps internet connection, so you can unlock the full potential of high-speed networking for both wired and WiFi connections.
Thinking of leaving your cable provider?

You'll find helpful articles and FAQs about cutting the cord in our Tech Center.
---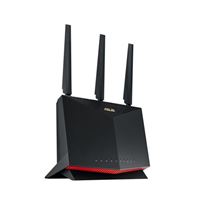 ASUS RT-AX86U AX5700 WiFi 6 Dual Band Gigabit Wireless Gaming Router with Mesh WiFi support
at Columbus StoreSold Out