EK

EK Quantum Torque 6-Pack STC 10/16 Fitting Pack - Nickel
Overview
EK-Quantum Torque 6-Pack STC 10/16 is a fitting multipack containing six EK-Torque STC fittings. These are EK's premium 10/16mm (ID/OD) soft-tube compression fittings designed for use with various flexible soft tubing types such as PVC, EPDM, Norprene, silicone or any other type of compatible flexible tube. With a non-intrusive, yet striking look, and with NO added branding at all. They can be complemented by interchangeable aesthetic color rings, and are an ideal choice for anyone and a perfect match with EK-Quantum series products.
See Other Water Cooling Fittings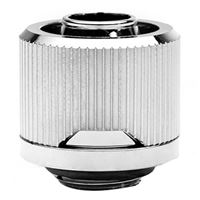 EK Quantum Torque 6-Pack STC 10/16 Fitting Pack - Nickel
Usually ships in 5-7 business days.