Inland

Inland 1.75mm Translucent Green PETG+ 3D Printer Filament - 1kg Spool (2.2 lbs)
Overview
PETG+ filament has the reputation of combining the functionality of ABS (stronger, temperature resistant, more durable) and reliability of PLA (easy to print) in one material. The higher melt flow of PETG+ permits higher speed 3D printing, similar to that of PLA. PETG+ exhibits excellent impact strength, which makes it ideal for printing components that need to absorb impact shock without fracture.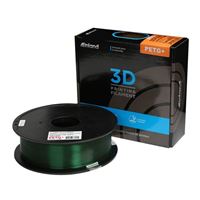 Inland 1.75mm Translucent Green PETG+ 3D Printer Filament - 1kg Spool (2.2 lbs)
Usually ships in 5-7 business days.