Overview
The BEST Nootropic Energy Supplement available with 600mg of Alphasize 100 (Alpha GPC Choline) per serving; regarded as the most widely studied brain supplement. Alpha GPC Choline provides the mental clarity and focus that energy pills, focus & brain supplements just don't provide enough of. VPN has brain boosting ingredients that will increase performance. These gummies have the right dosage of Lutemax (Trademarked version of Lutein) that protects your eyes from blue light strain & other negative effects. These eye vitamins will keep your eyes fresh. Ginseng & Ginkgo Biloba provide crazy mental clarity, energy, focus that other gaming supplements don't. No crash, no jitters, only the focus factor you want. Blue light protection, increased focus, increased reaction time, increased energy, and overall better performance are what you will get with VPN Megabytes.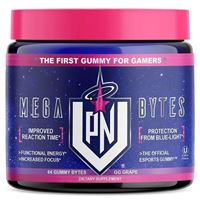 VPN Mega Bytes Energy, Brain & Gamer Supplement - CG Grape
Available for In-Store Pickup Only.