Overview
We know how easy it is for your cell phone to accidentally get wet and immediate panic starts to set in as you rush to find something to dry your cell phone out with. We have found a solution to the problem by creating the Absorbits phone drying pouch to keep on hand in your car, bag or desk drawer to extract moisture and help bring your electronics back to life! Our patented Bone-Dri technology effectively extracts moisture and humidity by utilizing materials that wick away and compartmentalize moisture, helping to revive your electronics within a matter of hours. Each of our phone dryer pouches can be reused multiple times by drying out after use with a hairdryer on low heat and measures 5 x 9inches, designed to fit most size cellular devices.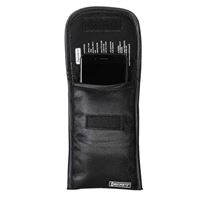 Absorbits Wet Phone Rescue Pouch
Available for In-Store Pickup Only.