Motorola

Motorola ML25260 2-Line Corded Wireless Deskphone
Overview
Building a system is easy! Simply plug the Motorola ML25260 into a phone jack and wirelessly connect up to 10 ML25055 cordless handsets or other ML25260 phones (sold separately) to make an extension. Only one ML25260 base station needs to be connected to a phone jack. You can also wirelessly connect your ML25260 to an ML25255 or ML25254 base phone.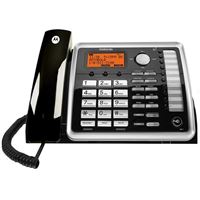 Motorola ML25260 2-Line Corded Wireless Deskphone
Usually ships in 5-7 business days.