Scosche Industries

Scosche Industries BaseLynx Charging Pad
Overview
The Scosche BLQP-XTSP BaseLynx Pad Qi-Certified Modular Wireless Charging Station is the customizable, modular system to organize, charge and store your electronic devices including smartphones, tablets, portable gaming systems and more. Simply connect the modules in your preferred order, adding as needed. Your BaseLynx system is powered by one power cable, so you eliminate tangled cables and can always find your devices charged and ready to go. The foreign object detection makes sure that charging only activates when your phone or Airpod Wireless Charging Case is properly placed over the charging area and when nothing else is obstructing that area. A white light blinks on the indicator to let you know that device is not compatible on the wireless charging pad. BaseLynx is compatible with the latest Qi-enabled iPhones, Samsung Galaxys or Google Pixels with wireless charging compatibility. Power the entire BaseLynx system with the 5-foot AC power cable through one of the end caps utilizing only one wall outlet. You get a charging station to charge a wireless device, which can be expanded to accommodate charging additional advices as needed.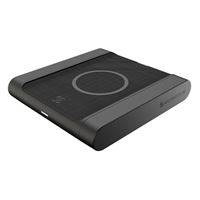 Scosche Industries BaseLynx Charging Pad
Usually ships in 5-7 business days.