Scosche Industries

Scosche Industries UH4WDEX2-SP ExtendoMount Grip Clip Adhesive Universal Mount with Telescoping Adjustable Arm
Overview
The Scosche UH4WDEX2-SP ExtendoMount Universal Mount with telescoping adjustable arm is a car phone holder system for conveniently mounting your Smartphone devices to your vehicle's dashboard or windshield in your car, truck, boat or RV. Every vehicle and driver are different that is why the Extendo adjusts to perfectly suit each one. Securing your device is easy, just place it between the adjustable arms and lock securely in place. The arms accommodate any device, up to 3.5 in. wide. The telescoping arm extends/ contracts forward to back from a range of 5.34 in. to 8.87 in. with a 220-degree angle, so you can move the arm to your desired length. Lock the mount into place on most firm and flat surfaces using the Scosche StickGrip adhesive or suction cup included bases. The 360-degree, adjustable head rotates the car phone mount holder with an iPhone, Android or any other mobile device seamlessly between portrait and landscape orientation in a snap.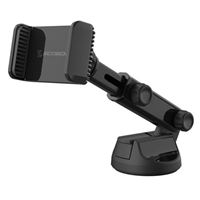 Scosche Industries UH4WDEX2-SP ExtendoMount Grip Clip Adhesive Universal Mount with Telescoping Adjustable Arm
Usually ships in 5-7 business days.