Corsair

Corsair iCUE 4000X RGB Tempered Glass ATX Mid-Tower Computer Case - White
Overview
The CORSAIR iCUE 4000X RGB is a distinctive and customizable tempered glass mid-tower ATX case with easy cable management and exceptional cooling. Two tempered glass panels and dedicated front ventilation channels combine to offer great looks and airflow. Three 120mm AirGuide RGB fans concentrate cooling and illuminate your system, controlled by the included iCUE Lighting Node CORE. The CORSAIR RapidRoute cable management system makes it effortless to route major cables through a single channel, with 25mm of routing depth. The 4000X RGB offers all the space you need for excellent cooling and storage, with room for radiators in sizes up to 360mm and four storage drives. Complete with a modern front I/O panel including a USB-C port, the 4000X RGB makes great cooling and clean looks easier than ever.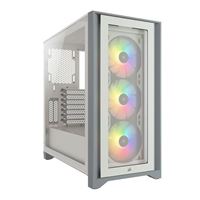 Corsair iCUE 4000X RGB Tempered Glass ATX Mid-Tower Computer Case - White
Usually ships in 5-7 business days.