Naxa Electronics Naxa Electronics NID-7055 - Black

7.0" 1024 x 600 HD Display; Rockchip RK3326 1.5GHz Quad-Core CPU; 1GB RAM & 16GB Storage; Android 10.0 Android Q
Overview
7.0" 1024 x 600 HD Display
Rockchip RK3326 1.5GHz Quad-Core CPU
1GB RAM & 16GB Storage
Android 10.0 Android Q
Naxa NID-7055 is a high-quality 7 tablet that runs on Android OS 10.0. It contains a powerful 1.5GHz Quad-Core processor and 2 GB of RAM that lays endless entertainment options at your fingertips. Apps and games runs in high HD (1024 x 600) resolution thanks to the independent graphics chip. The included high fashion headphones allow you to listen to your music and videos anywhere. Front and rear cameras make it convenient to take pictures or video chat. Connect to external devices wirelessly via Bluetooth 4.0.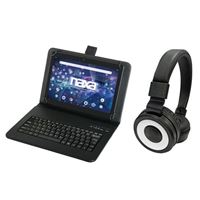 Naxa Electronics NID-7055 - Black

7.0" 1024 x 600 HD Display; Rockchip RK3326 1.5GHz Quad-Core CPU; 1GB RAM & 16GB Storage; Android 10.0 Android Q
Usually ships in 5-7 business days.