Toshiba

Toshiba DTO1ACA100 1TB 7200RPM SATA 6Gb/s 3.5" Internal Hard Drive
Overview
The DT01ACA drives connect to host systems via SATA 6Gbps interface, for ultra fast access to your movies, games, music and other forms of files. Advanced Sector Format technology is also employed, which utilizes the industry standard 4K byte-per-sector configuration and improved error-correcting code functionality to enhance data integrity while making more efficient use of the storage surface area.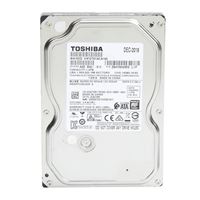 Toshiba DTO1ACA100 1TB 7200RPM SATA 6Gb/s 3.5" Internal Hard Drive
Usually ships in 5-7 business days.