Vantec

Vantec M.2 NVMe SSD to USB 3.1 Gen 2 Type-C RGB Enclosure
Overview
This Latest NVMe enclosure offers not just ultra-fast speed; the Glowing Multi-Color RGB LED will be mesmerizing. Equip with USB 3.1 Gen 2 Type C interface, Vantecs signature write protect function, Anodized Aluminum, RGB LED and a NVMe interface ready for your Super-Fast NVMe SSD. The embedded Heat Sink designed in the enclosure keeps the NVMe module cooler to run at top speed. Designed with great features like Pocket size, USB 3.1 Gen 2 USB C native, UASP, Plug and Ready plus all the great features you can expect from Vantec Storage.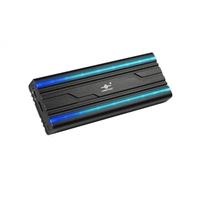 Vantec M.2 NVMe SSD to USB 3.1 Gen 2 Type-C RGB Enclosure
Usually ships in 5-7 business days.