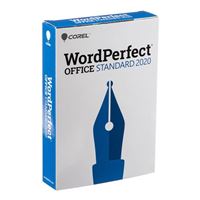 Corel

Corel WordPerfect Office 2020 Standard Edition - Mini-Box
Overview
Streamline office productivity with WordPerfect Office Standard 2020 for PC from Corel. Designed to simplify and speed up your word processing experience, this software suite provides WordPerfect, Presentations, Quattro Pro, WordPerfect Lightning, and WordPerfect eBook Publisher. Additionally, it also includes Aftershot 3 photo editing software and can be used with Corel Perfect Authority software, available separately. On top of 900 TrueType fonts, 10,000 clipart images, 300 templates, 175 photos, and a bitmap editor, users can also take advantage of BrainStorm training videos. Furthermore, WordPerfect Office Standard 2020 includes enhanced Reveal Codes, QuickWords, and printing options. Over 60 file formats are supported by WordPerfect Office, including DOCX, XLSX, PPTX, PDF, TXT, RTF, WPM, OTF, and EBOOK. WordPerfect Office Standard 2020 is compatible with Windows 7 and later. CPUs should have 64-bit or x86 architecture, a clock speed of 1 GHz or higher, and 1GB of RAM. AMD64 processors are also compatible with WordPerfect, but require 2GB of RAM.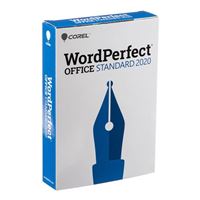 Corel WordPerfect Office 2020 Standard Edition - Mini-Box
Usually ships in 5-7 business days.