Lenovo Lenovo Smart Tab M10 FHD with Amazon Alexa - Black

10.1" 1920 x 1200 Capacitive Multi-Touch Display; MediaTek P22 Tab 429 2.3GHz Octa-Core CPU; 4.0GB RAM & 64GB Storage; Android 9.0 Pie
Overview
10.1" 1920 x 1200 Capacitive Multi-Touch Display
MediaTek P22 Tab 429 2.3GHz Octa-Core CPU
4.0GB RAM & 64GB Storage
Android 9.0 Pie
The Lenovo Smart Tab M10 FHD Plus with Alexa Built-in is our 2nd generation mainstream Android tablet that can help you do more, hands-free with Alexa built-in smart dock. It is a 2-in-1 offering with tablet smart dock. The tablet comes with the standout metal design, premium look and feel with modern simplicity, and inside lies a 10.3" FHD screen and dual speakers for immersive entertainment. More than that. Dock the device into the smart dock to transform your tablet as a hands-free home assistant. Perfect for the kitchen or living room with enhanced dual speaker sounds, charging and a full screen Alexa experience. Just ask. You can stream music or play videos, check the weather, access to tens of thousands of Alexa skills, dim the lights or change the temperature from your favorite chair. Do more, hands-free.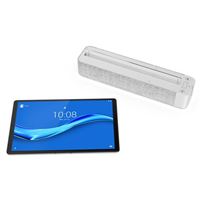 Lenovo Smart Tab M10 FHD with Amazon Alexa - Black

10.1" 1920 x 1200 Capacitive Multi-Touch Display; MediaTek P22 Tab 429 2.3GHz Octa-Core CPU; 4.0GB RAM & 64GB Storage; Android 9.0 Pie
Usually ships in 5-7 business days.