Casematix

Casematix BlueCarbon Hard Shell Gaming Mouse Case
Overview
The CASEMATIX BlueCarbon Hard Shell Case for Gaming Mice is a way to protect and store your valuable gaming mouse while traveling, on-the-go or during storage. Its molded design is made to universally fit a wide range of wired and wireless gaming mice from top manufacturers such as Razer, SteelSeries, Logitech G Series, ROCCAT, CORSAIR and more. The maximum supported mouse size is 5.3" x 3.3" x 2.75". The case's hard shell outer EVA material is resistant to water and protects against dust and dirt. The interior of the case has a padded divider with velcro that snugly holds the gaming mouse in place, while the compartment below is designed to hold the USB cord, USB dongle, batteries and other accessories. Additional features include a carabiner and wrist strap attachment which offer various carrying options.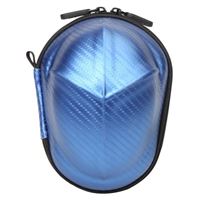 Casematix BlueCarbon Hard Shell Gaming Mouse Case
Usually ships in 5-7 business days.