Gigabyte Gigabyte AERO 15S OLED XB-8US5150SP 15.6" Gaming Laptop Computer - Silver

Intel Core i7-10875H Processor 2.3GHz; NVIDIA GeForce RTX 2070 SUPER with Max-Q 8GB GDDR6; 16GB RAM; 1TB Solid State Drive
Get Rainbow 6 Siege Gold with select GeForce RTX 20 Series video cards/systems

Overview
Intel Core i7-10875H Processor 2.3GHz
NVIDIA GeForce RTX 2070 SUPER with Max-Q 8GB GDDR6
16GB RAM
1TB Solid State Drive
Microsoft Windows 10
Killer Ethernet E2600
Kill Wi-Fi 6 AX1650
Bluetooth 5.0+LE
15.6" UHD Thin Bezel Samsung AMOLED Display
From the beginning, the AERO series raised the bar of what a high-performance laptop should be; ultra-light, ultra-fast, with no limitations. Cutting edge engineering enhanced the end user experience by tackling the finer details, optimizing performance through calibration. The all new AERO evolves again from the inside out with an upgraded cooling system, refined aesthetics with an unparalleled visual experience, giving users the power to realize endless creative possibilities. With the AERO series, users can have lightning fast video or 3D rendering, or embrace smooth as butter gameplay of AAA game titles.

For a limited time, get Tom Clancy's Rainbow Six Siege Gold Edition, including early access to six new Operators and Year 5 BattlePass privileges, with a purchase of a qualifying GeForce RTX 20 Series graphics card, gaming desktop, or gaming laptop.
Squad up with your crew and take on new challenges with a NVIDIA® GeForce RTX™ graphics. Powered by an award-winning GPU, maximize your performance to get the edge over the opposing team.
REDEEM YOUR BUNDLE THROUGH GEFORCE EXPERIENCE
Install your qualified graphics card
Update or install the latest version of GeForce Experience (Version 3.18 or higher): www.geforce.com/geforce-experience/download
Open and log in to GeForce Experience
Go to the Account drop-down menu in the top-right and select "REDEEM"
Enter your bundle code from your qualifying bundle purchase
Follow the remaining instructions on screen
For Rainbow Six Siege Gold Edition, you will need to link your Uplay account. If you do not have one, create one for free here: https://uplay.ubisoft.com.
*Terms and Conditions apply.


Code may be used once. NOT FOR RESALE. Offer available July 30, 2020 through August 27, 2020 or while supplies last. Qualifying graphics cards, desktops, or laptops: GeForce RTX 2080 Ti, GeForce RTX 2080 Ti desktop, GeForce RTX 2080 SUPER, GeForce RTX 2080, GeForce RTX 2080 desktop, GeForce RTX 2080 laptop, GeForce RTX 2070 SUPER, GeForce RTX 2070, GeForce RTX 2070 desktop, GeForce RTX 2070 laptop, GeForce RTX 2060 SUPER, GeForce RTX 2060, GeForce RTX 2060 desktop, GeForce RTX 2060 laptop. Game must be redeemed with qualifying graphics card installed. Customer must meet the age requirement for the game to redeem. Regional/Country Requirements: Some coupons require that they be redeemed in specific regions or countries they were purchased in. Please redeem the code in the appropriate region/country.

© 2020 NVIDIA Corporation. All rights reserved. NVIDIA, the NVIDIA logo, GeForce RTX, and NVIDIA Turing are trademarks and/or registered trademarks of NVIDIA Corporation in the U.S. and other countries. Other company and product names may be trademarks of the respective companies with which they are associated. © 2020 Ubisoft Entertainment. All Rights Reserved. Tom Clancy's, Rainbow Six, The Soldier Icon, Ubisoft and the Ubisoft logo are registered or unregistered trademarks of Ubisoft Entertainment in the U.S. and/or other countries.

Bring Marvel's Avengers To Life With In-Game PC Optimizations, Powered by Intel
For a limited time, get Marvel's Avengers when you purchase a qualifying 9th and 10th Gen Intel® Core™ i5, i7 or i9 boxed processor, or 9th or 10th Gen Intel Core i5, i7, or i9 processor-based device.
INCLUDED IN THIS BUNDLE
Marvel's Avengers full download.
Assemble your team of Earth's Mightiest Heroes, embrace your powers, and live your Super Hero dreams. Marvel's Avengers is an epic, third-person, action-adventure game that combines an original, cinematic story with single-player and co-operative gameplay*. Assemble into a team of up to four players online, master extraordinary abilities, customize a growing roster of Heroes, and defend the Earth from escalating threats. For additional information go to www.playavengers.com.
IN GAME CONTENT
Receive the Marvel's Avengers Hero Outfits including Black Widow's Sanguine Kiss Outfit, Captain America's Star-Spangled Outfit, Hulk's Unbreakable Outfit, Iron Man's Iron Relic Armor Outfit, Ms. Marvel's Insta-Fab Outfit, and Thor's Dwarven Forged Outfit to further customize your gameplay experience.
GAMING ACTION
Enhanced Enemy Destruction
Packed into this exciting title are things like richer armor destruction, with more debris flying in more pieces and more places.
Super-Charged Heroics
Your favorite Avengers' signature heroic moves now create more detailed rubble and debris that stays on screen longer, so you can really see the full effect.
Reactive Water Simulation
Even the water looks better on a high-end Intel powered processor. With the optimal balance of cores, threads and frequency, any interaction with water becomes a richer, more responsive experience.
GET STARTED NOW
Purchase a qualifying Intel processor-based device from Micro Center. Receive a Master Key with your purchase. It will be printed on your receipt. Once you have your master key:
Go to softwareoffer.intel.com/MarvelsAvengers
Sign-in or create an Intel Digital Hub account
Once your account is verified, log in and enter your Master Key by March 31, 2021 to claim your software
Agree to the Offer Terms and Conditions and complete the short survey
Select and download the available software products
*Terms and Conditions apply.


Offer good through February 28, 2020 or while supplies last. Website redemption is open until March 31, 2021. Qualifying Devices: Intel Core i5/i7/i9 9th & 10th Gen Boxed Systems and NUCs: Desktop K-skus, Notebook H-Series, S Series. Learn more at https://softwareoffer.intel.com/offer/20Q3-19/learnmore

© 2020 MARVEL © Intel Corporation

THE APPS YOU WANT
More than 30 Creative Applications Including Adobe Photoshop, Illustrator, Lightroom Classic, Premiere Pro, After Effects, and Dimension.
RTX ON. CREATIVITY ON.
Adobe apps are supercharged by GPU-acceleration and RTX technology.
Adobe Photoshop Lightroom
GPU-accelerated, AI-based "Enhance Details" feature automatically refines color detail of high resolution RAW images. GPU-accelerated image processing makes photo adjustments more responsive, especially on 4K displays.
Adobe Dimension
Bring your 2D designs and illustrations into 3D to see the effect of lighting and reflections, powered by RTX-accelerated ray tracing and AI denoising.
Adobe Premier Pro
AI Auto-Reframe automatically tracks the primary subject of landscape video and converts it to portrait aspect ratios for social media.
IMAGINATION MEETS INNOVATION.
Adobe Creative Cloud gives artists specializing in photography, graphic design, video editing, and 3D motion graphics a robust portfolio of 30+ apps and tools necessary to realize their creative visions.
NVIDIA RTX Studio laptops and desktops, combined with GPU acceleration technology and exclusive Studio Drivers, dramatically enhance performance and stability in essential Adobe apps.
AND SO MUCH MORE.
Adobe Fonts
Behance
Creative Cloud Libraries
Adobe Portfolio
Storage
Discover how your creative tools and process can be enhanced with NVIDIA RTX Studio and Adobe Creative Cloud.
*Terms and Conditions apply.


Offer valid for new and existing customers. Redemption Instructions:
Purchase an NVIDIA RTX Studio laptop or desktop from a participating retailer
Check your email for your promo code, then download GeForce Experience (https://www.nvidia.com/en-us/geforce/geforce-experience/) and create a new account or log in to an existing one
Click on your account icon in the upper right corner and select "Redeem"
Input the promo code from this email into the top bar and click "REDEEM"
The Adobe Creative Cloud offer will appear; click "REDEEM" to get your voucher code
Click on "COPY"; click on "Complete your redemption by following this link", paste the code and click "validate"
Create an Adobe ID or sign in with an existing Adobe ID
Click on "REDEEM"; click "Add payment method" for auto-renewal or "remind me later"
Click "Get Started" to download
Enjoy your 3-month complimentary membership to Adobe Creative Cloud All Apps
Get creative! Share your artwork on Instagram, Facebook, or Twitter with #studioshare
For troubleshooting help, please contact NVIDIA Customer Support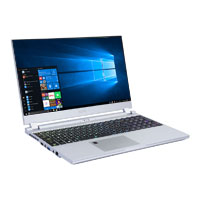 Gigabyte AERO 15S OLED XB-8US5150SP 15.6" Gaming Laptop Computer - Silver

Intel Core i7-10875H Processor 2.3GHz; NVIDIA GeForce RTX 2070 SUPER with Max-Q 8GB GDDR6; 16GB RAM; 1TB Solid State Drive
1 in stock at Cambridge Store
Not On Display. Located In Laptops►VIEW MAP