Geko

Geko myGEKOgear Orbit 960 4K UHD Wi-Fi Enabled Dashcam w/ GPS Logging, Sony Starvis Sensor Night Vision, Lane Departure and Front Collision Warning System 16GB SD Card included
Overview
The Orbit 960 is a 4K super high definition dash cam to record videos at a resolution of 3840 x 2160p at 30fps, ensuring clarity and quality. A 2.7 LCD screen will give you easy visibility to access your dash cam. Recording at a 140 wide angle lens, this allows drivers to record more lanes of the road, this way those important details such as license wont be missed. Revolutionary night vision technology is built-in using the Sony Starvis sensor. This sensor is perfect for low-light situations, to help render a more well-lit and clearer video. Wi-Fi connectivity is enabled to easily view and transfer your video footage via dash cam straight to your smartphone. Equipped with GPS logging to help drivers track the speed and all the routes driven. Additionally, driver assist features can be turned ON to give you a driver fatigue warning, headlight reminder, front collision warning system, and lane departure warning system.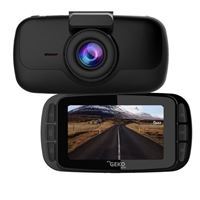 Geko myGEKOgear Orbit 960 4K UHD Wi-Fi Enabled Dashcam w/ GPS Logging, Sony Starvis Sensor Night Vision, Lane Departure and Front Collision Warning System 16GB SD Card included
Usually ships in 5-7 business days.