Swann Communications

Swann Communications 60 ft Fire-Rated BNC Cable
Overview
Easy to connect co-ax extension cable featuring premium grade materials & shielding that supports resolutions up to 4K Ultra HD. Certified by UL with a CL2 & CL3 rating for fire resistance & safe use in wall & between floors.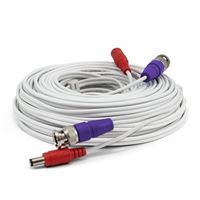 Swann Communications 60 ft Fire-Rated BNC Cable
Usually ships in 5-7 business days.