Night Owl Night Owl Security DVR & Camera Kit

8-Channel; 8 Cameras Included; 2TB Pre-Installed HDD; 4k Resolution
Overview
8-Channel
8 Cameras Included
2TB Pre-Installed HDD
4k Resolution
Introducing Night Owls 4K Ultra HD Wired Security System with Human Detection Technology and Motion-Activated Spotlights. At 4K, you capture recordings with clarity and precision. There are absolutely no fees for storing your recordings. Simply keep everything on the pre-installed 2TB hard drive. Human Detection Technology uses advanced algorithms to detect human motion, thereby reducing false alerts to your Smart Device and saving hard drive space. A built-in motion-activated spotlight activates anytime one of the 4K Ultra HD Wired security cameras senses human motion, adding an extra layer of security to your world. Facial Capture and Recognition Technology captures a persons face from up to 10 ft. away from the camera, scans the systems database for a match, and sends a Familiar or Unfamiliar Face alert to your Smart Device. The weather-resistant indoor/outdoor cameras generate 4 times more pixels than standard 1080p video resolution. Additionally, continue recording in full-color video even in low-light settings with L2 Color Boost Technology. As light fades, these cameras provide crisp and clear video in full-color only switching to Night Vision when necessary. Night Vision up to 100 ft. and wide-angle viewing provide extreme coverage for your home or business.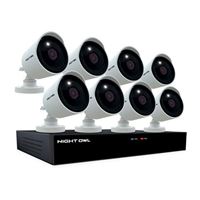 Night Owl Security DVR & Camera Kit

8-Channel; 8 Cameras Included; 2TB Pre-Installed HDD; 4k Resolution
Usually ships in 5-7 business days.